Granada Airport Departures (GRX)
Not all flights may be showing. If not available use search above to find your flight by airline, airport or flight number.
Destination
Airline
Flight no.
Scheduled
Est./Actual
Status
Barcelona (BCN)
Vueling
VY2011 expand_more(2)
09:35
Scheduled
Barcelona (BCN)
Iberia
IB5137
09:35
Scheduled
Barcelona (BCN)
Qatar Airways
QR3678
09:35
Scheduled
No flight departures were found at Granada Airport.
Flight Departures at Granada Airport
Granada Airport handles approximately one million passengers per annum, and is one of Spain's more important airports. It is found nearby the city of Granada, in the southern region of the country, and is officially known as the Federico García Lorca Granada-Jaen Airport, with the code of GRX. The terminal building of the airport is well equipped with a variety of facilities for departing passengers, and several well-known airline companies offer Granada Airport departures. There are also adequate parking areas for passengers who will be leaving their own vehicles at the airport.
From the city of Granada, the airport is approximately 15km, or 9.4 miles, and from Jaen, another province of importance in the airport's catchment area, it is about 100km, or 62.5 miles. Jaen is located to the north of the airport, and to the south, are popular coastal areas for tourists, especially during the warmer summer months. Particularly nearby the airport, are the municipalities of Láchar, Chauchina and Santa Fe, and larger areas a little further include Loja and Antequera. Seville is also to the far west of the airport. Departing passengers from the city by the Autovia A-92, and from Jaen by the A-44 easily accesses Granada Airport. These two major roads also lead further west and east, and further south, providing access from a wide range of areas. The parking lot of the airport is adequate, with over five hundred spaces available, and within walking distance of the terminal building.
Departing passengers can also arrive at the airport by bus or taxi, but not by train, as there is no train station on the airport grounds. Buses travel frequently from Granada (approximately one per hour), making stops at various locations along their journey, and will cost just 3 Euros. There are also three bus services per day from the bus station in Jaen. Taxis are more expensive, but are a popular way to quickly travel to the airport, and are available from all nearby areas.
Granada Airport departures are available to several other airports in Spain, and these routes are offered throughout the year. International flights are mainly available during the busier season at the airport. Air Europa and Iberia are two of the main airline companies at Granada Airport, and they have flights to Palma de Mallorca, Madrid and Barcelona. Iberia, operated by Air Nostrum, offers departure flights to Melilla and Tenerife-North, while Vueling Airlines offers more flights to Barcelona and Palma de Mallorca. Transavia France and Blu-express are the airline companies that fly internationally, to the destinations of Paris-Orly and Rome-Fiumicino. These are seasonal flights.
The departure area of Granada Airport is found on the ground floor of the single terminal building, and it has a variety of facilities. There are twelve check-in desks and four boarding gates, as well as a cafeteria and restaurant area. A few shops are available for passengers with some time to spare, with the most popular being the La Tienda del Aeropuerto, selling traditional local foodstuffs, liquors, souvenirs and gifts, as well as magazines and other accessories, such as sunglasses. There are also duty-free stores in the secure departure area of the airport. Granada Airport has no full-service bank or currency exchange facility, but there are three cash machines located in the building, from the banks of Caja Rural de Granada, Caja Granada and Santander, and meeting rooms that can be hired by business professionals. The rooms are modern, and available for up to thirty guests. A VIP lounge for departing passengers can be used as well. Additional facilities at Granada Airport include a post office, public telephones, baby changing areas and medical facilities.
Disabled passengers departing from the airport are welcomed by various services and facilities with their comfort in mind. All Spanish airports are compliant with the accessibility requirements, and Granada Airport is equipped with 21 reserved car parking spaces, pavement ramps, access ramps to all areas of the airport, adequate toilet facilities, a special check-in desk and a lowered telephone booth. Any passenger who requires further assistance can contact their airline company at least forty-eight hours prior to their departure. Meeting points are available in the departure forecourt, and in the public lobby area of the terminal.
Passengers should arrive at least an hour before their time of departure, leaving sufficient time for checking-in of their hold luggage and for making their way to the correct boarding gate. Check-in requirements for each airline company may differ, therefore its best to read the information on your ticket, or to confirm check-in times with your airline company. Passengers with any special needs or requirements, such as those travelling with babies or awkward luggage items, should arrive a little earlier. Certain airline carriers may offer online check-in options as well.
Live Granada Airport departures are found on various websites on the Internet, or further details are available from the Aena Aeropuertos information counter within the terminal building. The Iberia office can also provide assistance.
Was your flight delayed or cancelled?
You may be eligible to receive up to 600 EUR compensation per person in your party..
Claim Now!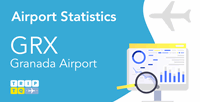 Granada Airport Passenger Traffic Soars 7.50% in Q3 2023, Surpassing Pandemic Levels