Granada Airport Arrivals (GRX)
Not all flights may be showing. If not available use search above to find your flight by airline, airport or flight number.
Origin
Airline
Flight no.
Scheduled
Est./Actual
Status
Barcelona (BCN)
Vueling
VY2010 expand_more(2)
09:00
Scheduled
Barcelona (BCN)
Iberia
IB5136
09:00
Scheduled
Barcelona (BCN)
Qatar Airways
QR3784
09:00
Scheduled
No flight arrivals were found at Granada Airport.
Flight Arrivals at Granada Airport
Granada Airport is an efficient establishment serving the city of Granada, Jaen, a city further to the north of the airport, and many other areas within the Andalusia region of Spain. It is quite a busy airport, with close to a million passengers per annum, and its facilities are modern and more than adequate for its arriving and departing passengers. Several popular and well-known airline carriers offer Granada Airport arrival flights, and they arrive from a variety of destinations, in particular from other airports in Spain. Passengers have public transport options available from the airport as well.
Granada Airport, recognised by the code of GRX, has the official name of the Federico García Lorca Granada-Jaen Airport, and is located just 15km, or 9.4 miles west of Granada city. Jaen is approximately 100km, or 62.5 miles from the airport. In the vicinity of airport as well, are the municipalities of Santa Fe, Chauchina and Cijuela. In 2016, Granada Airport handled 735,000 passengers. This was quite a low figure for the airport, however passenger traffic rose to 901,961 passengers in 2017.
The airport of Granada handles mainly domestic flights, to various locations within the country of Spain, and some seasonal international flights to the major cities in France and Italy. Blu-express is the airline company travelling to Granada Airport from Rome-Fiumicino Airport, and Transavia France offers flights from Paris-Orly Airport. Passengers can travel to Granada airport on flights offered by Air Europa, Vueling Airlines, Helitt, Iberia and Air Nostrum, from the local destinations of Barcelona, Palma de Mallorca, Madrid, Melilla and Tenerife-North. The majority of the local flights are offered throughout the year, on a regular basis during each week.
Aena Aeropuertos is the world's leading airport operator, and is the company that manages the services at Granada Airport. Aena is also the managing company of another 46 airports and 2 heliports in Spain, and is involved in the management of a further 28 airports worldwide. All airports falling under the management of Aena are modern and functional, using the latest technology to ensure that passengers receive only the best possible service, and have an excellent airport experience. The airport buildings are accessible to disabled passengers, and are equipped with a wide variety of quality retail and catering services.
Granada Airport is no exception. The single terminal building of the airport has all the amenities required, including several shops and restaurants, duty-free stores and a VIP lounge. Business passengers arriving at the airport can hire meeting rooms, capable of seating up to thirty people, and with all kinds of equipment available. The airport building is divided into sections for departing and arriving passengers, and the Granada Airport arrival hall for baggage reclaim contains three baggage carousels, offices of the police and civil guard, and a customs area. It is also capable of handling up to 595 passengers. Into the main arrivals hall, there are the car hire companies, cash machines, public toilets and a seated waiting area. This area is able to accommodate up to 399 passengers at a time. Further facilities at Granada Airport include baby-changing areas, public telephones and a post office. All areas of the terminal are equipped with access ramps for the accessibility of disabled passengers, and there are also reserved car parking spaces available. A special lowered telephone booth and check-in desk are found as well, and there are four adapted toilet facilities in various areas of the building. Arriving passengers in need of further assistance should contact their airline company prior to their departure, and specify their requirements.
Passengers ready to leave Granada Airport can travel by bus or taxi, but there are no trains available from the airport. However, passengers can easily travel to the city of Granada, and will find a variety of train services available from the Granada railway station. Public buses depart after each arrival flight at the airport for locations in Granada city, and three services per day are available to Jaen. The bus services are a cheap and convenient way to travel, and at the bus stations in both cities, many further connections are available. Buses to Granada cost 3 Euro, and buses to Jaen are around 9 Euro. The taxi rank of the airport is found outside the arrival area as well, and there are generally always taxis available. They are more expensive, but a quicker way to reach your next destination.
Another popular way to travel from Granada Airport is by rented car, from one of the car hire companies of the airport. They include Avis, Europcar, National, Alamo, Budget and Europcar, as well as a few local companies. The main roads leading from the airport include the A-92 to Granada in the east and Loja in the west, and the A-44 to Jaen in the north and Motril in the south. Cars can be hired by anyone over the age of 23 who has a valid drivers license. All who are not citizens of the country will need an International Driving Permit.
Live Granada Airport arrival flights can be viewed on many websites online, or further information can be obtained from the Aena Information Desk at the airport, and from the airline companies. Passengers arriving at Granada Airport will find a tourist information desks within the arrival area.
Was your flight delayed or cancelled?
You may be eligible to receive up to 600 EUR compensation per person in your party..
Claim Now!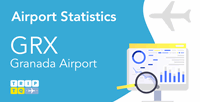 Granada Airport Passenger Traffic Soars 7.50% in Q3 2023, Surpassing Pandemic Levels